Ever wonder who are the people behind a web site or an organization?
We have. That is why we decided to "put faces to the name", so to speak, and spotlight our wonderful volunteers. Here they are in alphabetical order by last name. Naturally, some volunteers devote more time to Pet FBI than others, but we value them all. Like all non-profit organizations, we could not accomplish our mission without them. THANK YOU, VOLUNTEERS EVERYWHERE!
Some of the good people below are full time professionals, but they volunteer their skills for Pet FBI. If you would like to contact them regarding professional services, please send an inquiry using the contact link at the bottom of this page and we will forward.
Melissa Bleen
Melissa Bleen joined Pet FBI's Board of Trustees recently but she has been a devoted rescuer of cats and kittens and a believer and trapper of TNR (trap-neuter-return), the only humane method of controlling feral cat populations. Melissa devotes her spare time and personal resources to helping people have their pets fixed. She helps to inform people in the community about how important it is to spay and neuter and inform people about how to get help though SOS low cost clinic, Columbus Dog Connection, SNAP of Central Ohio, Humane Society, Cat Welfare, and other programs and groups out there willing to help. She has help fostered for Apurrfectstart.org who place cats and kittens in homes and they are a big part of her TNR mission. She advises us on the status of rescue and TNR efforts in our community. Melissa believes it takes a group of people to help one cat or dog, even if it's one at a time.
Janet Cooper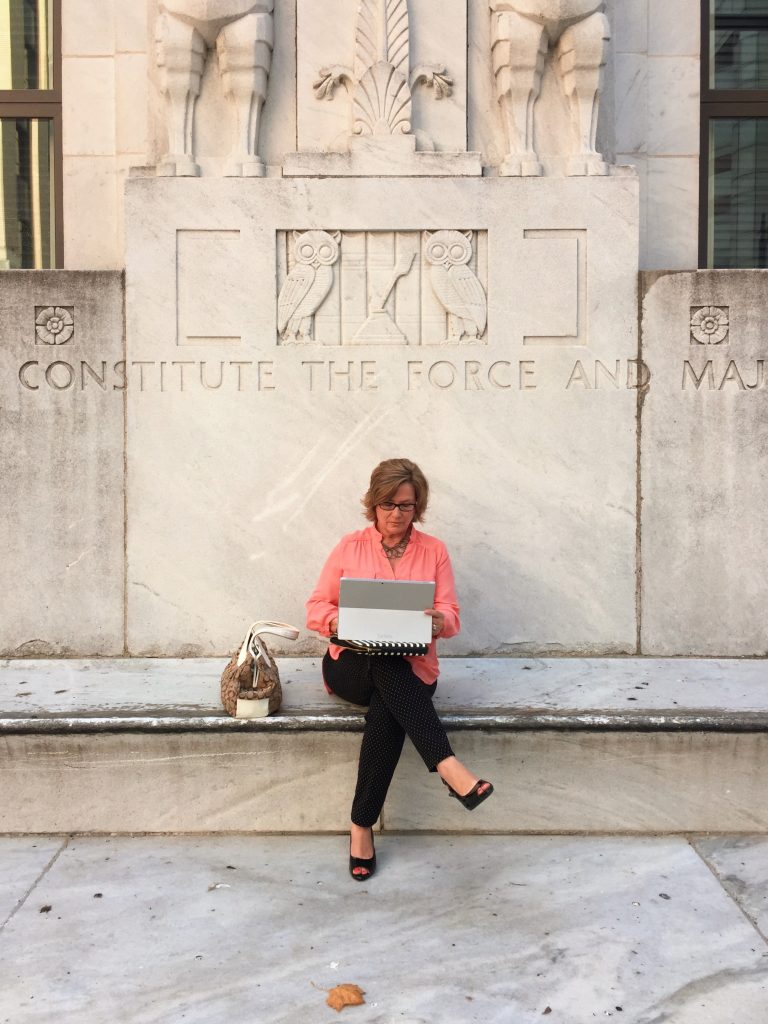 Janet is a marketing communications professional who has provided periodic marketing and organizational strategy support to PetFBI since 2014 after both finding a losing a pet within a few months – both times with happy reunion outcomes. She is a founding board member of a small animal rescue in Arizona, for whom she has managed almost daily communications for more than 13 years. Janet has shared her life with many animal companions over time – all rescues – including dogs, cats and rats, with an occasional cockatiel and leopard gecko thrown in for good measure.
Maresa Fanelli
"When I was 10 years old my pet parakeet escaped and the two weeks he was missing stands out in my memory as the greatest trauma of my childhood, so much so that I swore never to have a pet again and risk the heartbreak. But when I married and moved to Columbus thirty five years ago my husband insisted we adopt two cats. We also became caretakers of a little feral colony in our neighborhood.
I founded Pet FBI back in 1998 after one of the feral cats went missing.  Petfbi.org was probably the first online lost and found pet database and web site.  Previously I taught French and Italian at Lafayette College and even published several successful textbooks, but I have found much greater satisfaction in helping people recover lost pets.
Over the years Pet FBI also sponsored an OUTREACH spay/neuter/TNR program that helped about 9,000 cats and dogs. In 2014. we overhauled the Pet FBI web site and database to cover the entire U.S. plus Puerto Rico and the Virgin Islands. I have served as Director, chief bottle washer and cook since the beginning and have been blessed by meeting and working  with the many people dedicated to helping animals.  They are special people.
Marsha Fisher
I  recently retired and relocated to Melbourne Beach, Florida from the Washington DC area June 2016. I was looking for something meaningful to do to help animals. I  learned  about PetFBI through VolunteerMatch.org.  I  will be setting up a Pet FBI Florida page. I also work with the Sea Turtle Preservation Society. This past summer I helped hundreds of baby loggerheads and green turtle hatchlings make it safely to the Atlantic Ocean.
Personally, I am married to David.  We have five daughters and one son, Bailey. Bailey is a blonde Pomeranian and is 12 years old.
Teresa Aiello Heizer
Teresa Aiello Heizer has reunited approximately 170 lost / found dogs with their owners via the internet within the past 2 years. She searches and also shares all of the Pet FBI posts to lost and found pages, buy/sell/trade pages, humane society pages, and shelter pages. She has personally gone on searches and has hung signs for lost pets which resulted in 4 dogs and a cat being reunited with their owners.
Teresa is pictured with a dog (Patriot) that was within hours of being euthanized at the Franklin County Dog Shelter. She found someone to foster Patriot (now known as Alfie) and the foster ended up adopting Alfie. She shares dogs that have a limited time at the shelter on various Facebook sites to find fosters, saving the dogs' lives.
Teresa has 2 dogs of her own from the same litter that she adopted from Pets Without Parents 5 years ago. She has been married for 21 years and has a son that attends The Ohio State University.
Editor's Note: Teresa was one of our first "Special Agents". She practically created and defined the position. Click here to see how you, too can become a Special Agent and save lives.
Pam Hill
"I have been with Pet FBI volunteering in varying areas since 1999.  Although that may seem impressive…I wasn't always active, although I did help out from time to time. I first became acquainted with Pet FBI when I rescued a pregnant dog (I believed to be a lab mix) from a very busy W. Broad St.   We called her Sadie Mae.   She had her pups 1 week after I had found her.  We raised them until they were old enough to adopt out.  (8 to 10 weeks).   Pet FBI (namely, Maresa) and a Lab Rescue group, and a few others helped me out with their knowledge and support. I could not have managed without Maresa and the others.
In 2014, I became Volunteer Coordinator and have been actively involved since then.  It is my responsibility to find volunteers for Pet FBI, assign them duties and follow-up on their progress. I also serve on the Board.  I am very proud to be a small part of the Pet FBI organization.
Personally, I am happily married to Kelvin (May 18, 1996).  We currently have 4 dogs:  3 Tibetan Spaniels and 1 stray we believe to be a Chihuahua Terrier mix, Dakota, Bailey, Maggie and Annie, respectively.  Also we have 2 cats who live on our front porch, Rainbow and Buddy.  Each one of our pets was rescued from different situations.  We love them as if they were our children and were excited to bring them into our home.  They brings us lots of joy and love."