Information about lost pets is scattered everywhere!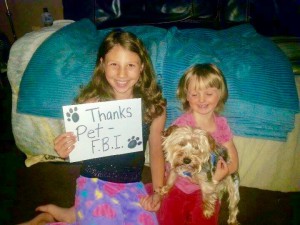 To name just the resources online: there are numerous other lost pet web sites, microchip registries, Craigslist, assorted Facebook pages, Twitter, Instagram, and various other social media. But only a well-designed, user-friendly, extensive, searchable database like Pet FBI's  will give you the best chances for a speedy successful reunion. Combine our state-of-the-art database with the most comprehensive advice about what to do and whom to contact and you will "cover all the bases"!
How is Pet FBI different from other lost pet sites?
General Advantages:
Pet FBI is strictly not-for-profit and non-commercial and has been since it was founded in 1998. All features are absolutely free.
As a non-profit organization, Pet FBI is able to refer visitors to all other sources of information.
"Losers" and "finders" are free to contact each other directly. There is no intermediary. Time is critical!
You can search or post a report for any kind of animal, not just cats and dogs.
The Pet FBI database is state-of-the art for speed and efficiency.
 We have compiled the most comprehensive advice and useful tips for recovering lost pets based on more than two decades of experience.
Pet FBI volunteers are available through email for advice and encouragement.
Pet FBI has a network of volunteers both official and unofficial who search and cross-check.
Concerned about privacy? No need to give a full name, only contact info like a phone number or email because it is crucial that you can be reached immediately. Pet FBI does not sell your information.
Search Advantages:
The Pet FBI database "Search" feature is designed to zero in on relevant results only.
Reports are searchable by county or by zip code with your choice of radius  – in exact miles up to 250 miles from the zip code you choose. You can cast as narrow or wide a net as necessary.
Results are bracketed by the time frame you select. You get only relevant results.
Reporting Advantages:
The report form prompts you for all the critical information.
You have complete and direct control over your report. You can edit, update or inactivate it at any time.
Your lost or found report can remain posted for at least four years, without needing to remember to renew it.
Once you post a report you get automatic email Alerts about possible matching new reports. For example, if you post a "Lost Dog" report,  you will automatically receive links to new "Found Dog" reports  for a 100 mile radius  from the zip code you used in your report. The Pet FBI automatic alert feature optimizes your chances of success and saves you lots of time. The alerts run for 90 days but you can unsubscribe at any time. Of course you can do a manual Search at any time.
Wouldn't it be great if all the information were gathered in one place?
Just as there is a single national registry for stolen cars, there should be a single database for lost and found pets that everybody would use: individuals, shelters, animal control, rescues and so on. Realistically, there will always be multiple sources of information about lost and found pets, but Pet FBI is unique in helping visitors take advantage of all other sources.
You can help promote the use of the Pet FBI database by suggesting it to the agencies in your area, to your vet, pet supply stores, groomers, friends, family and so on. There is a Pet FBI flyer you can print to post or leave with people. Please help us make Pet FBI "information central" for lost and found pets. The more people who use it, the better it will work
Please check our How to Help page for other volunteer ideas.