18 Years Old! Blind and Deaf, Rescued From Storm Sewer
Published: Wed Oct 28 2015
Last Updated: Wed Feb 23 2022
---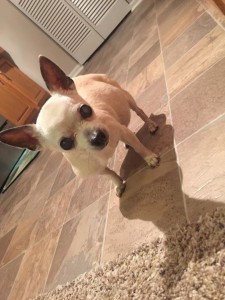 Our frequent hero and friend, Mary of Franklin County OH Animal Control, was dispatched to an area where barking was heard but no dog was present. Mary searched and then discovered Chalupa, an 18 year old blind and deaf chihuahua at the bottom of a storm sewer!
Mary immediately sent a photo and message to Char, our tireless Facebook administrator. The post reached almost 30,000 people including Chalupa's frantic family. Thanks to Mary's diligence and our Facebook friends' caring and sharing, Chalupa was home again in a few hours.
Coincidentally, earlier in the week, BooBoo, belonging to another member of the family, was recovered when Char matched up a found dog post with a lost dog post. In less than a week the family had two reunions thanks to Pet FBI Ohio Facebook (opens new window) AND friends!
OBJECT LESSON: When Animal Control, shelters or humane societies work together to share information good things happen!