A "Miracle" Reunion, Thanks to Pet FBI "Special Agents"!
Published: Tue Oct 20 2015
Last Updated: Wed Feb 23 2022
---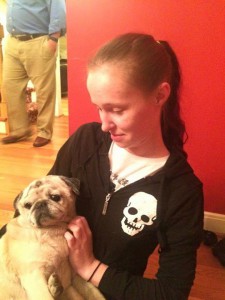 HAPPY TGIF (Thank God I'm Found) to 13 year old Harley from Canal Winchester!!
This reunion is a miracle and would not have been possible without our pals and frequent heroes Julia & Teresa!!
Teresa is a champ at matching pets posted on Craigslist with their corresponding post on our page or database. Sunday night she saw on Craigslist that Harley had been found, was being given away for free and had 9 people interested in her!!
Teresa mentioned this outrageous situation to Julia who immediately contacted the finder and brought Harley home with her so she could have a chance to locate her family. We posted Harley on our page and within 3 hours Vanessa saw our post and tagged Harley's Mom!
OBJECT LESSON:
If you are reluctant to turn a stay over to a shelter at least give the shelter(s) a flyer with all the pertinent information so that the owner will have a chance to trace their pet, the shelter(s) being the obvious place a pet parent would inquire.

If you want to try to trace the owner on your own - and that is an admirable thing to do if you do it properly - give it enough time! At least two weeks! Follow all the suggestions on our Action Plan pages as best you can.

Finally, if you are going to adopt out the stray you have found because you have been unsuccessful in tracing the owner, be wary! Ask lots of questions, Be sure the adopter is a responsible person. There are numerous web sites with advice about screening potential adopters.