Darwin Reunited After Five Weeks Thanks To Pet FBI Database
Published: Mon Jul 20 2015
Last Updated: Mon Feb 21 2022
---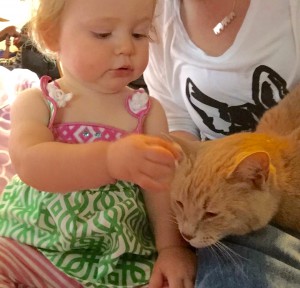 A Good Sam found Darwin about half a mile away from home two weeks after he went missing. The Good Sam already had five cats and wisely took him to a vet to be tested for common infectious diseases. The tests came out negative but the vet did not scan the stray cat for a microchip and they did not suggest checking the Pet FBI database.
Three more weeks passed and a friend of the Good Sam suggested she check the Pet FBI database. And there he was! He is pictured here with his best friend Amelia who was thrilled to have him back.
Object Lesson:
Possibly the vet thought it was the client's intention to keep the cat, but knowing it was a stray, they should have checked it for a microchip. In fact, Darwin did have a microchip and would have been home three weeks sooner - which would have spared a lot of grief and worry! We strongly recommend microchipping and ID tags BUT they are not a guarantee of recovery. If your pet goes missing, you must use other resources as well!
Pet FBI was founded in Ohio in 1998 and has a very high success rate in Ohio because it is so well known and widely used. We averaged 145 reunions a month for the last three months within a 200 mile radius of Columbus. We went national only a little over a year ago, in May of 2014, but already the Pet FBI database is the largest national lost and found pet database. Please help promote more happy reunions by referring your vet, your groomer, your local pet supply place and shelters to petfbi.org. It's completely non-commercial and all services are free!