"Jack" Home Again, Thanks to Pet FBI Database!
Published: Sun Jan 10 2016
Last Updated: Wed Feb 23 2022
---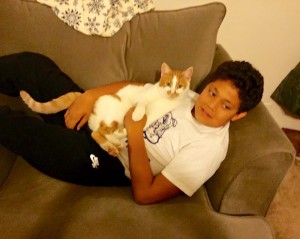 Almost a month had gone by when Jack turned up eleven miles from where he went missing. An unlikely reunion - but it happened thanks to the Pet FBI database.
Dave & Andrea are Westerville Ohio residents that first noticed this kitty on 1/5/16. They struck out with a microchip and their search did not turn up any lost cat flyers. They then searched the Pet FBI lost & found pet database (www.petfbi.org (opens new window)) and couldn't believe their eyes. There was kitty's lost cat report! He went missing on 12/11 and was found 11 miles from home!
Our lost & found pet database has been a central location for pet owners and finders to exchange information since 1998. It is a free service sponsored by our all-volunteer non-profit organization.