K.C. Reunited through Pet FBI Database After Two Months!
Published: Wed Apr 13 2016
Last Updated: Wed Feb 23 2022
---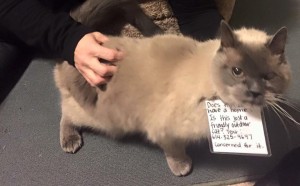 K.C. With His Hopeful Note!
This kitty had been a frequent visitor in our Facebook friend Nikki's neighborhood for two weeks. She put this sign on his collar in hopes of solving the mystery: was this cat just a "moocher" or was he really a stray? When no one called, Nikki posted the kitty to the Pet FBI Ohio Facebook page.
Our "special agent" (unofficial volunteer) Teresa immediately commented and suggested that Nikki check our lost and found pet database.Thankfully, fourteen year old K.C. was posted. He had been missing for two months! Whether you have lost or found a pet, posting on Facebook is not enough. After awhile the info gets buried and is not easy to find. MAXIMIZE your chances of a reunion by using our free, searchable lost and found pet database at petfbi.org (opens new window): The Information Center For Lost and Found Pets.