"Mason" and Thankful Dad: Reunited Thanks to Sighting Report and Quick Action
Published: Wed Sep 30 2015
Last Updated: Mon Feb 21 2022
---
Mason's Dad posted his lost dog's picture to our database and our Pet FBI Ohio Facebook page. (opens new window) Char, our Facebook Ohio Administrator suggested he check the shelter. He let us know he struck out there. Char then posted Mason to our main timeline. Within 20 minutes "Alma" left a comment that she had just seen the dog at a certain intersection.
Char, who somehow manages to stay on top of numerous reports, immediately called Dad to alert him to the sighting. Phone went straight to voice mail. Fortunately Char pursued the matter, texted the sighting tip and got an immediate reply. Mason's Dad and his wife drove separately to the area to search. About 15 minutes later he texted Char to let her know they had their guy! Thanks to Alma for her tip and to Char for being persistent and conscientious.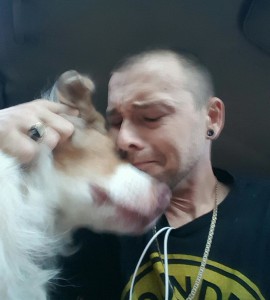 OBJECT LESSON:
Sightings can be important! Please post!

If you have a report out on a missing pet try to keep your phone covered at all times. What if texting were not an option? Most people will phone first - it's fastest and most convenient. In a sighting situation, minutes matter! A dog can travel far and fast in very little time.